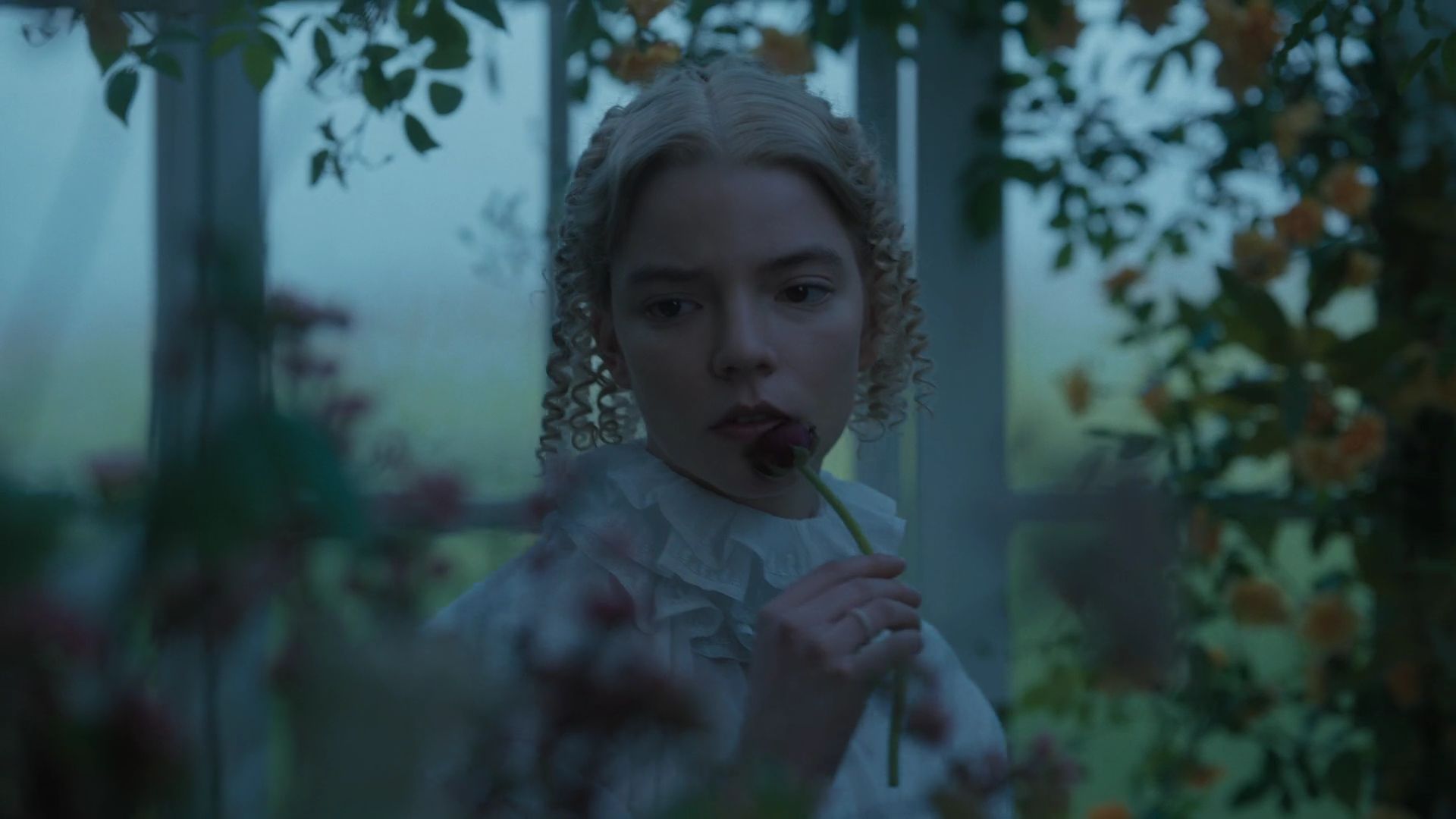 Autumn de Wilde's debut feature film Emma., adapted from the same eponymous Jane Austen novel as the second-to-last movie I covered (with an added punctuation to the title that de Wilde has explained by the means I alluded to in this review's title), has a very special place in my heart for me. Outside of Tenet, it became the very last movie I saw in a cinema during its release the night before AMC shut down as part of the measures taken in the early days of the coronavirus when the country pretended to care. And it is a comfort in the following days that my last two movies in a movie theater while I refuse to step in one for the foreseeable future were among the very new releases I had seen over the past 12 months.
I like to think none of that sentimentality has a hand in my positivity towards the movie. Even if I hadn't seen Emma. in that contest, it is certainly the case that it has retained my favorite quality of all of my favorite Jane Austen adaptations: a refusal to be nice to its characters. Including and especially Emma Woodhouse, played by Anya Taylor-Joy as the lead in a phenomenal cast that finds a way to import a much modern attitude in their performances as they can do without feeling out-of-time with the setting. That modernity is how de Wilde and her cast are able to hash out as much nasty teasing from Austen's source material and Eleanor Catton's screenplay adapting it from Emma's place of extremely noted privilege with wealth and background to her ostensible new recruit as a best friend, the much lower class Harriet Smith (Mia Goth), a relationship that we have enough distance to regard as pretty shitty and enough engagement to hope that Emma will recognize her snottiness and develop as a better person.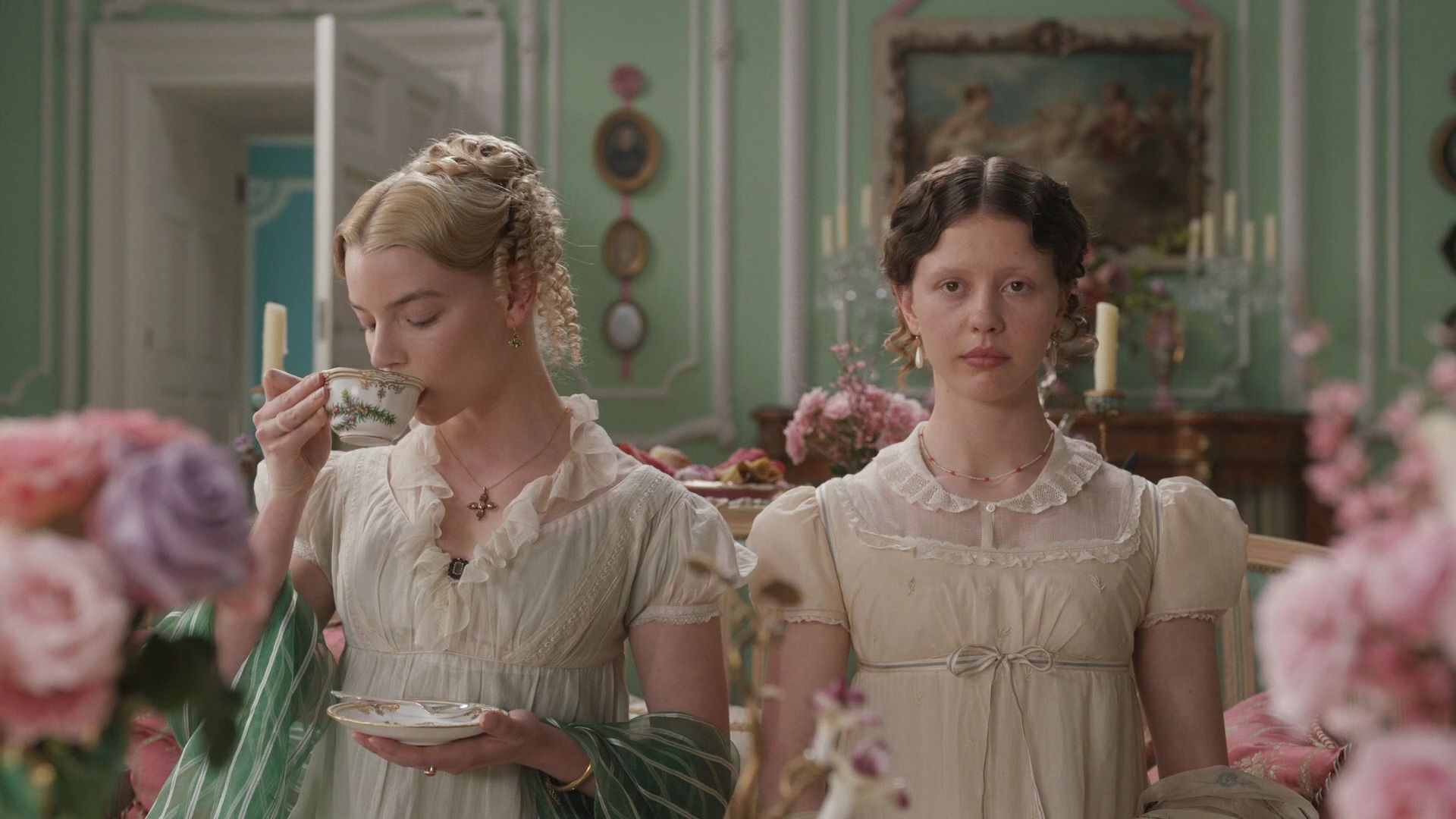 A trick that is of course at the heart of Austen's work – as I mentioned in that aforementioned Clueless review – as her judgment of her judgmentally presumptuous protagonists and the judgmentally presumptuous social norms they engage is what animated her literary storytelling and it seems that cinema finally caught on to that with a vengeance in the mid-90s, even if Emma remains "a heroine whom no one but myself will much like". Well, Taylor-Joy's Emma delivers sarcasms and snipes like a second-language and even in the understanding that she's being mean, it ends up being absolute fun to listen to as dry comedy and restrains from foreshadowing any future thawing though it remains a believable character arc. In the meantime, Goth and Miranda Hart (as the very talkative and excitable neighbour Miss Bates) are wonderful sports as the most frequent recipients of these meddling while acting as the secret weapon for Emma.'s humanity and bringing us to root more for the idea of Emma making amends with Harriet and Miss Bates and earn their friendship than for Emma making amends with potential suitor George Knightley (Johnny Flynn) or Frank Churchill (Callum Turner) and find love. I expect it is just as much the fact that Goth and Hart are both clearly the best performances in the movie that the power of friendship is more appealing than the power of love in an ostensible Regency romance story, but it does not feel inadvertent on de Wilde or Catton's part nor like a bug.
The cast and script are of course only one level through which Emma. was so enjoyable as a late-night watch. As expected of any period film worth a damn, the production and costume design use the Regency accuracy as an opportunity to explore the chance to act as extensions of what drama is happening inside them. Most particularly the complete polarity between Kave Quinn's decision to make the palaces and mansions throughout feel elaborate and overindulgent in its lines and curlicues and Alexandra Byrne's desire to restrain as much as possible in the attire of these characters. The latter seems to function all the better to define the social differences between Emma, Harriet, Miss Bates, and the rest as well as really stress that stuffy rigidity that Emma and her father (Bill Nighy) seem to embody in their style just as much as their personality. In the meantime, the whirly Englishness of the sets is particularly a starting point for de Wilde (who clearly showcases a developed eye from her background as a photographer and music video director) and cinematographer Christopher Blauvelt to exaggerate the fussiness with similarly rigid compositions that nonetheless lend to imbalances (especially in Blauvelt's camera movements) and add rosy tints to even the least compatible colors while softening the focus so that everything just a tinge unnatural and off-putting (an act that makes way for a visual surprise later in the film). Which feels no less a sarcastic manner to present an ostensible time and place of pageantry than it does to use the heights of the English language to give unbecoming snipes and actions.
In any case, Emma. happily embodies all the brittleness of the time it was made to translate effectively Jane Austen's critique of a time that was while still indulging in all the visual splendour that makes worthwhile period pieces a treat to look at. It would be tempting to claim that the latter is what makes it an easy and appealing watch while performing the former, but the fact is that the same biting attitude of the content informs a lot of how the movie looks and so it intertwines together into the sort of knowing joke on the time and place that at least this viewer loves to be a part of. And the sort of movie that I satisfied me enough as a farewell to the cinema for the time being.