Austin-based independent animator Don Hertzfeldt has come to a point in his career where he can basically do no wrong by me. At worst, his movies are shallow (and admittedly sadistic in a hilarious way) amusements like Billy's Balloon and Wisdom Teeth. At best, he has reached the heights minimalist masterpieces with the hand-drawn animation form from his angrily critical Rejected to his unexpectedly ambitious emotional rollercoaster ride of his sole feature* It's Such a Beautiful Day. Even his fucking Simpsons intro is inspired. And of course, his last 5 years have been spent exploring the potentials of digital animation to translate his previously beloved stick figure style against otherwise pointedly computer generated imagery or principles communicating unexpectedly bottomless existential journeys of fears and thoughts with the World of Tomorrow short film series, the first two entries of which are not only masterpieces on the level of Rejected and It's Such a Beautiful Day… but may in fact even surpass them. So of course, World of Tomorrow Episode Three: The Absent Destinations of David Prime was immediately my most anticipated movie of the year the moment its existence was announced and as of this writing I have watched it four times (the fact that it's ONLY 4 times in a year is an accomplishment of serious discipline, honestly).
So like I said, Hertzfeldt can do no wrong by me. But it can take a minute for me to adjust to see what he's doing more clearly and I have to say that if World of Tomorrow Episode 3 remains in my top three movies of 2020 when the time comes to wrap it up… it's still something of a disappointment to me in ways I wasn't expecting. The first area being how these shorts lose a lot of humanity by the absence of Winona Mae, Hertzfeldt's Scottish niece who at the ages of 4 and 5 had been recorded by Hertzfeldt to voice the central child Emily of the first two episodes while the narrative was constructed around her aimless ramblings. By this point, Mae is now 11 years old and as wonderfully creative and imaginative as I'm sure an 11 year old could be, I imagine it loses the spontaneity of her exclamations the way that pre-schoolers have hardly any filter at all. So sad to say but understandable as it is, Emily Prime is nowhere to be seen in this entry and it is doubtful she will ever return unless Hertzfeldt decides to wildly change the course of this series a second time.
For the first time, what we have instead as a subject is David Prime (who spends most of the short silent but I suspect an uncredited Don Hertzfeldt is the voice behind a hilarious gag that I won't spoil), a character whom we have never met but whose clones we have encountered throughout the first two episodes in several ways we knew and ways we did not know until this episode. When we meet David, he's an already well into the cold and isolated future premonitioned in the first two movies, but when Emily 9 (as in the ninth generation clone of Emily voiced like all of Emily's clones with impeccable deadpan by Julia Pott) has met David, he was a toddler upon whom she sent a long dormant neural message that did not activate until he reached a certain mature age and needless to say… being confronted with this deliberately packed memory is overwhelming to David. As we've seen in the first World of Tomorrow, one of Emily's clones had met one of David's clones and the two had fallen in love. Many of Emily's subsequent clones have attempted to find ways that would facilitate a reunion between the clone's memories and the man they remember having strongly romantic feelings for. Emily 9 is the one that landed at leaving a complex and overlarge memory/message for David that sets him off on a vast journey that ends up requiring him to sacrifice a whole lot for something that makes his compulsion feel more obligated than organic.
Which gets us far enough in the narrative to acknowledge the second thing outside of Mae's absence that gave me a minute to be on World of Tomorrow Episode Three's wavelength: this is by far the most cynical and vicious of the three episodes. The first two episodes approached its cold future with more of a sad disappointment, but this one portrays David's arduous journey across space (and not necessarily time but… it is something passed through) and within unknown planets with an understanding that David doesn't particularly know what he's looking for. He just frequently sees the face of this woman implying that some future version of him was a soulmate of a past version of her – a vision that already costs him literally, he has to uninstall skills to watch more of the message by way of an obnoxious HUD interface. It's a pretty pointed tale about how dangerous and malformed love can be. Not to mention given the things David goes through to land where he and Emily 9 hope to meet, this is certainly the most jokingly sadistic thing Hertzfeldt has made since Wisdom Teeth on the basis of that cosmic romantic uncertainty.
Which is a treatment of love as a concept that I'm happy to see many movies, but it does come as a shock to the system within a series of shorts that didn't feint in that direction before (though it did maintain a pessimistic outlook on the future and all its marvels). Just as well, since Hertzfeldt has by now stated he will continue to be making so many more of these shorts and it was going to have to shift gears at some point in order to remain fresh. More importantly, it felt to me in the span of watching the first two World of Tomorrows that Hertzfeldt had pushed the envelope on marrying his stick figure minimalist aesthetic with imagery that could only be created through computers. If this World of Tomorrow Episode 3 hoped to justify itself in any manner, I thought it would have to be in evolving that visual style further than Episode 2 ended.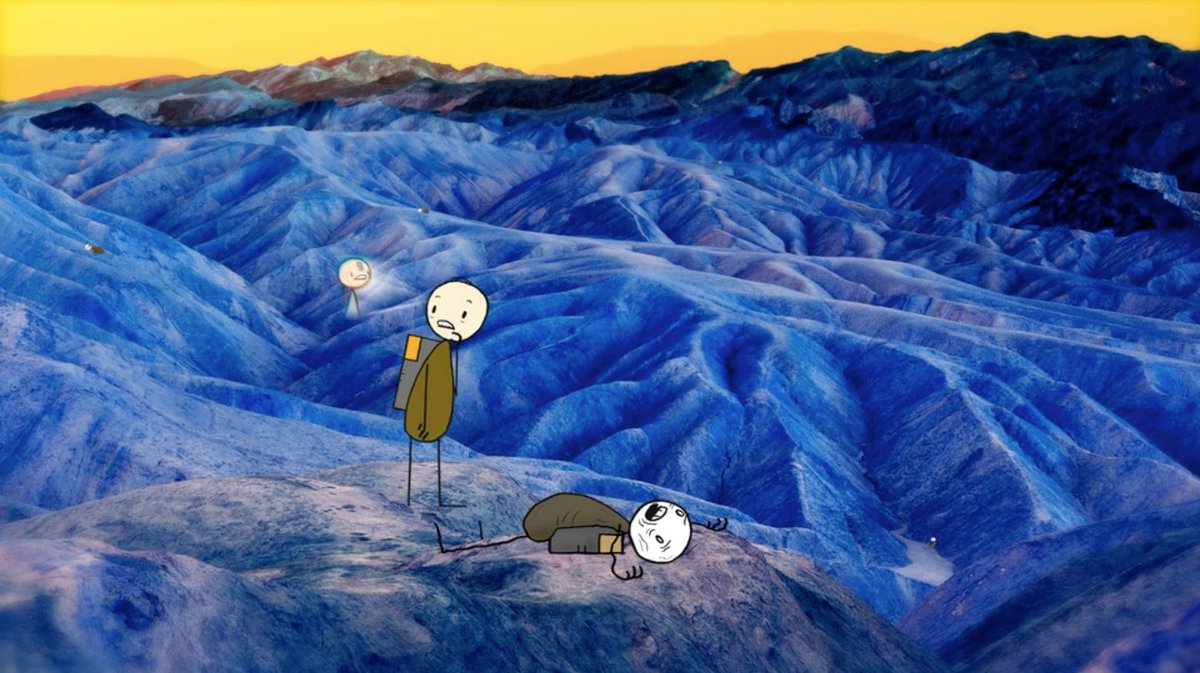 It gets there and then some. Episode 3 is undeniably the most ambitious and visually complex film of Hertzfeldt's entire career and it lands every technical leap it takes. First in its depiction of the future on an intimate level with the first scene, using its sense of depth to a frame to add more clutter to the living area of David and then compounding that through his HUD view – which also foreshadows yet another new toy for Episode 3 – as one of my favorite gag turn out to be the desktop crowding of his view by way of pop-ups (one of many prices Emily 9's message forces him to pay). This is particularly aided by the sound design doing more than any other Hertzfeldt film to be as irritating as possible in ways that make sense within this world, whether it's holograms that scream at you or the buzziness of David's guidance system. Then there is the expansive way that Hertzfeldt defines the planets and areas that David and other characters live in or explore without removing any of the bold color (although another favorite gag of mine plays with the color) and defined lines that made up the previous films. This is, in any case, the most physical of the World of Tomorrows with hardly any room for abstraction in the story it wants to tell (though Taylor Barron returns as a visual effects artist and the only other crew member besides Hertzfeldt). It's the first of the World of Tomorrows to actually interact and create this world rather than approximation of it based on the workings of someone else's mind. Which probably ends up being why this feels so much less psychologically complex than its predecessors, but that's a fair trade to me.
Then there's how that depth finally gets to Hertzfeldt playing with the z-axis and the camera's perspective to these characters in ways that give them more dimension than they ever had before. The teaser shot that announced this movie's existence happens to give away one of the most impressive moments of character animation in Hertzfeldt's career (with the only other contender being the climactic ballet in Episode 2) as we watch David from behind stumble during his wall on the remote planet where another piece of Emily 9's message is and it is smooth as butter to watch his limbs swing around and his square body have more volume to it than any stick figure before. It also allows more camera angles to be utilized now that Hertzfeldt knows that he can actually animate these characters from those angles in ways that make spatial sense while still finding moments to play with their flat 2-dimensional origins.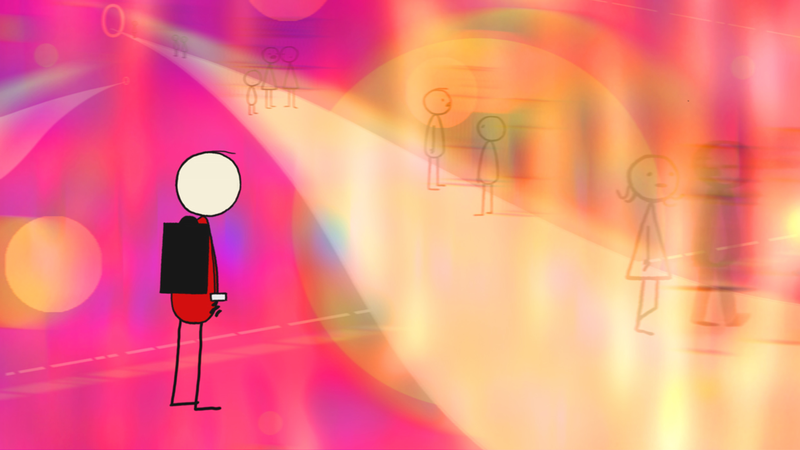 Such a moment being a narrative revelation that I want to keep a surprise as much as possible that ends up being an avenue for shots and images to have layers that look more like filters of previous drawings from the series. We learn late in the film that there is a means that facilitates imagery that resembles cels but much murkier and unstable (similar to a technique used in It's Such a Beautiful Day but with less motion) and how the characters play with this is one of the darker revelations within the whole story. And yet this technique is not something necessarily introduced to us that far in nor exclusively used for darkness or comic value, as the HUD point of view shots already allow us to see the world sometimes through that filtered screen with the same separation as David and particularly one of the earlier shots happens to be unexpectedly soothing and beautiful as David is faced with an old childhood nightmare on his HUD and closes his eyes. There is a lot more tonal versatility to these new techniques on Hertzfeldt's part than expected for a short that mostly retain a certain group of emotional states.
So there is a lot that Hertzfeldt brings new to the table and practically everything about World of Tomorrow Episode Three: The Absent Destinations of David Prime does feel brand-new in a way that is exhilarating. It's just that it did take me a couple more watches to get that and I still don't know that I'm calibrated to love this the way that I did the first two. Still perhaps by the time Episode Four is made, the episodes will connect in a clearer way and I'll be able to feel ready for yet another exciting divergence from the things that came before. I'll be ready for the things to come.
*OK, it's technically a short film trilogy but having originally watched them as separate short films… I find it just impossible to return to that presentation again since Hertzfeldt combined them into one feature. They just segue so well into each other.