For Marshall
The Man Who Shot Liberty Valance is quite an outlier from the rest of the John Ford films I have seen in an impossible to miss way: it's the one most reliant on its screenplay to talk to us than its visuals. And that's maybe what makes me rank it at the lowest when it comes to John Ford's masterpieces, the fact that the writing has to be most front and center to the imagery that makes Ford one of my favorite filmmakers of all time. But it's just as well forgivable when it comes to what a perfect piece of writing it is.
The screenplay in question by James Warner Belluh (his second script for Ford after having most of his short stories adapted into earlier movies, as we saw prior in this review series) and producer Willis Goldbeck, adapted from a short story by Dorothy M. Johnson, begins with a US Senator Ransom Stoddard (James Stewart) and his wife Hallie née Ericson (Vera Miles) arriving in a small frontier town by the name of Shinbone. He is ostensibly of such repute that everybody around takes curiosity to his arrival, most of all the local newspaper the Shinbone Star, who go so far as to impose in the middle of Ranse's paying respects to a recently departed old friend to demand the story of who this man is to Ranse.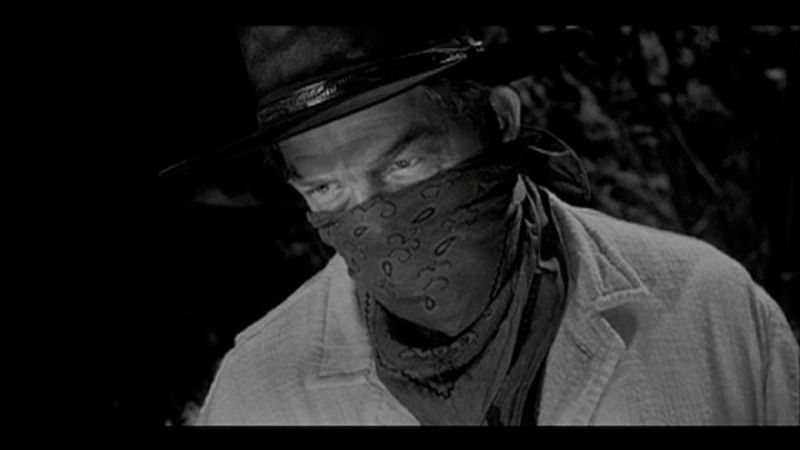 That man is by the name of Tom Doniphon and Ranse is miraculously patient enough to acquiesce to The Shinbone Star's request, beginning from his very first arrival to Shinbone 25 years ago. An arrival that ends up extremely unwelcoming as his stagecoach is intercepted and robbed by the villainous Liberty Valance (a particularly smarmy and vengeful Lee Marvin) and his gang*. When Ranse dares to stand between Valance's men and an old woman's pendant, he gets himself beaten down for his bravery and then when Ranse's response is specifically to tout the law – for you see Ranse at this point was fresh out of law school and eager to practice it within Shinbone itself – that beating becomes more severe and ends with Stoddard being left out on the road. Enter Doniphon (John Wayne), who carries him into the town and to the care of the Ericsons where Ranse is able to heal up and earn his shelter by working for the Ericson's restaurant while also endearing himself to the town with his knowledge and planning his practice soon enough.
And for the next hour or so, the movie becomes less plot-driven and more about ideas. Explicit ideas, I'd dare to say close to didactic except that Ford, Belluh, and Goldbeck don't necessarily provide an answer to the questions it brings up but nevertheless waste no words without shading out the tug-o-war particularly between Doniphon and Stoddard. A future confrontation between Stoddard and Valance is pretty much inevitable, given both Stoddard's dogged devotion to having Valance dealt with by the law and Valance's hatred of Stoddard at first sight (as well as Valance being such a notorious presence plaguing Shinbone outright to the point that the Marshal is looking for any reason to avoid crossing him). Doniphon is pretty much the only person in the world that Valance shows anything near fear towards and it's clearly because Doniphon is a much bigger fella who has no problem flashing a big stick and puffing his chest out against Valance when necessary. And so we have at the center of The Man Who Shot Liberty Valance, a conflict of ideals: Stoddard's intelligent navigating around the legal system as he tries to invoke it in whatever way that might stick against Valance and Doniphon's pragmatism towards force being used against force.
Which one can't possibly think of two better actors to embody these two separate forms of masculinity than Stewart and Wayne, even while they both are notably a lot older than we're meant to assume the characters are. Nevertheless, it's a no-brainer: you take Jimmy Stewart, the very image of the moral arbiter that American cinema had in the wake of Mr. Smith Goes to Washington and It's a Wonderful Life, which somehow did not fade yet in 1962 even after his Hitchcock pictures and Anatomy of a Murder showed more of an edge. Which is of course better for his performance as Ransom Stoddard, which might be his career best, carrying just enough of that edge to his non-violent strategic rationalism to react to moments such as Woody Strode forgetting the "All Men Are Created Equal" in the Declaration of Independence and comforting him with "a lot of people forget that part" as well as the jagged way in which he confronts Doniphon's alpha male approach to things (to the point of throwing a punch at him in one scene). Stewart imbues just enough doubt to Stoddard and his lack of familiarity with Shinbone to suggest a complication towards his convictions but yet let's those convictions have enough presence against Wayne…
… who is basically doing a lot of the same things he's always done with Ford: embodying the broad-shouldered, street smart, physical-minded Western hero archetype he fits on like a glove and even the melancholy he brings to the role is nothing new, given She Wore a Yellow Ribbon and The Searchers. He's less doubtful on his actions – and given the way that story develops, it's safe to say he's mostly validated – but he's also got less chemistry with any of his co-stars, including Miles and Strode (Hallie is at the time of the flashback Tom's girlfriend and that actually plays as a second contest for Tom and Ranse while Strode plays Tom's right-hand man Pompey). And a bit of this may be based on how miserable Wayne made most of the people on set as a reaction to the way Ford made him miserable, but it gives an excellent little separation of Tom from the rest of the community as his own quiet island. And when you mix that in with Wayne's effortless soulfulness, that just makes his lack of belonging sting a tiny bit more. In fact, the only real chemistry spark Wayne has on-screen is with Marvin as somebody for him to center all of his anger at when they stare daggers at each other waiting for a draw.
And so with those two embodying the incompatible ideals of how a man deals with the problems a man has to deal with, the story and Otho Lovering's unexpectedly back-loaded pacing eventually uses its second half to boil all of that theory into something that requires guns be fired at the last second and the revelations regarding that explosive climax are too good to spoil, but suffice it to say… there are ways in which we learn how right and how wrong both were and in turn the way the world is starting to favor one after spending most of its development necessitating the other's skills. It's a movie particularly aware of politicking and image as an important element (by the beginning of the second hour, the discussion of imminent statehood and representation in the government becomes an active stake and given purple rhetorical delivery by Edmond O'Brien at his most Shakespearean and a surprise cameo by John Carradine matching O'Brien's theatricality tenfold. It's also the moment where Ford and Lovering see to adding close-ups that betray where the performance begin and ends when it comes to oratory politics) and the manner in which Belluh and Goldbeck's screenplay ties all that up is certainly famous enough in its own right, but frankly I don't want to take the chance that someone will read this and be spoiled on what is quite a poetic conclusion.
In any case, that's a lot of time spent on the story itself and while I did say The Man Who Shot Liberty Valance has that story take precedence over the image… it is still extremely strong imagery. For one thing, it is a return to black-and-white for Ford and his cinematographer William H. Clothier, a style which honestly I think found Ford at his most comfortable and strongest as he takes interest at giving as much unglamorized realism to the Western sets, like the walls of the Ericsons' restaurant or the cluster of machinery in the original Shinbone Star office. And then there's still the ability for Ford to marshal the usage of shadows when necessary, particularly the heart-pounding gun duel that everybody knows is coming the moment Valance and Ranse lock eyes to render the characters in a nihilistic blackness (which only expands further when considering that, in true visual villain form, Valance is dressed specifically in black compared to all the other central players). And of course, there's Ford's awareness of what character blocking means in regards to those character's relations and attitude towards each other and there has never been a movie where that was more important given what Tom and Ranse represent. It appears that Ford is just as nimble with the 1.85:1 aspect ratio as he was in Academy, whether it's a crowd scene at a bar discussing politics or one man tearing down a building in anguish, able to have the action fit into that frame in notable ways. He even gives the framing of one moving shot between two doors late in the film a sense of gravity that adds to what is happening. Ford's framing and usage of shadows particularly mix the best together with a shot round the middle of a character entering a frame of pitch blackness before the lighting gradually reveals the presence of company with urgent disturbance.
Ford is not sleepwalking at all in this movie. He's deferring certainly to the writing moreso, but he feels no less inspired than anything else he's worked on and I imagine that's done for a reason. This is absolutely the sort of movie that is tapping into a man aware that his career is ending and what sort of legacy gets left behind once you close that door. It's why the frame narrative essentially involves the off-screen death of his biggest star and it's why it's a story aware of how the culture changes within barely anytime at all. Ford still had a few more movies left in him before finally packing up but The Man Who Shot Liberty Valance was certain that the end had begun and imbues a lot of gravity in its musings and themes from that awareness. And if a lot of its final conclusions appear to be borrowed from Ford's previous film Fort Apache, Ford's revisit of them come with a punchier and blunter manner of delivering them and when the legend becomes fact…
*One unexpected benefit of this movie's existence: Sergio Leone saw Lee Van Cleef playing one of Valance's henchmen and liked the way he looked so much that he cast him for For a Few Dollars More and then The Good, the Bad, the Ugly.