For Marshall
It is the most tempting thing to approach Stagecoach in terms of where it lands with John Ford's career and John Wayne's career, both of which are slightly overstated by history considering that Wayne was already trying very hard to break as a star and Ford had already been so well-established as a Hollywood filmmaker that he even had a Best Director Oscar under his belt. This IS a pair of men who collaborated on a movie that ends with the message "print the legend", but in any case the legend has some amount of truth to it: this is, more than any other shot at stardom that Wayne took, the one that made him the face of American cinema for the next 20 years at least. And while it wouldn't be too accurate to call this the movie where Ford came together with his own style, I am tempted to say that as John Ford's most perfect film… it was a necessary launchpad of his legacy into further masterpieces. Indeed, why – in a chronological series where I am talking about the 7 films of Ford's that I give five stars ratings to – this is the first movie I'm talking about.
Indeed, it would be tempting to talk about Stagecoach as a John Wayne movie but that would slightly neglect the excellent manner in which Stagecoach functions as an ensemble piece, even while it definitely favors Wayne as a screen persona (who is solely billed under Claire Trevor). In a genre like the Western that is more often than not seen as a metaphor for society and adjacent topics, Dudley Nichols' screenplay – adapted from the short story "The Stage to Lordsburg" by Ernest Haycox – functions efficiently in that utilisation. The characters in Stagecoach are archetypes before they are flesh-and-blood, but lived in archetypes that feel real in the confines of the story from the collected performances: There's Dallas (Trevor), an ousted prostitute from the Arizona town of Tonto, accompanied on the coach proudly by fellow disgrace Doc Boone (Thomas Mitchell). As Boone is an alcoholic, he very easily takes a liking to the fretful whiskey salesman Peacock (Donald Meek), and as a Union veteran, he takes conflict with the ex-Confederate gambler Hatfield (John Carradine). Hatfield himself joins the stage at the last second-to-last second as a gentleman to accompany the Mrs. Mallory (Louise Platt) as she journeys to reunite with her cavalry hero husband and secretly carries a child in her womb. That actual last-second passenger before the stage departs from Tonto ends up being the windbag banker Gatewood (Benton Churchill), attempting to embezzle money. Driving the carriage to Lordsburg, New Mexico is the unceasingly talkative Buck (Andy Devine) while riding shotgun is Marshal Curley Wilcox (George Bancroft) in the hope that he'll have a chance to catch the recently escaped prisoner The Ringo Kid, who seeks revenge in that same destination. Very early on the road, Curley gets his wish and catches up with Ringo as his prisoner and one final additional occupant to the coach…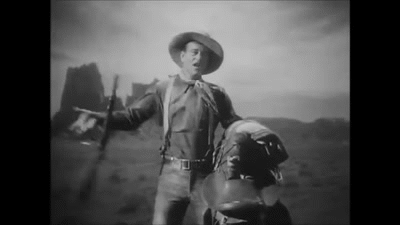 This is probably the only time here where I'll talk about Stagecoach like the John Wayne show, but Ford and cinematographer Bert Glennon (who worked together the same year on Young Mr. Lincoln) truly knew how to make the camera fall in love with Wayne's face. And the introductory sequence of The Ringo Kid – which, as you can guess, was Wayne's role – is the best example of this: we get an off-screen sound cue of a rifle blast (meant to get the wagon's attention) and cut to a medium shot of Wayne before the frontier mountains, saddle in one hand and performing the dynamic action of spinning his Winchester to reload with the other as the camera zooms so fast into a close-up that it loses focus for a noticeable split second. It is a movie throughout excited to present Wayne among other things where Ringo ends up superseding Dallas as the movie's ostensible protagonist by Ford's fiat and an excellent example of how Ford is able to use the form to favor certain characters over others.
And yet though Wayne is the STAR, I maintain that this is a movie whose strengths come from the collective adoption of the ensemble storytelling. Nichols' script has thrown several distinct personalities into a stagecoach and just let them interact with each other as the actors throw in their own personal non-verbal reactions to their interacting: the manner in which Hatfield favors Mallory but ignores Dallas when it comes to his principles on how to act before a lady, Doc's continuous pestering of Peacock for whiskey samples to Peacock's discontent, Buck's endless yammering while Curley tries to maintain vigilance as the coach enters Apache country without the cavalry's escort, Gatewood's constant blustering to the annoyance of everyone, and so much more. This is a movie about forcing characters in spatial relation to one another and responding towards the others' presence and seeing if the length of the ride is enough to see a change in any of them. Ford, Glennon, and editors Otho Lovering and Dorothy Spencer are excellent at keeping us aware of the spatial relation when using the frame to box the characters within the coach (mostly in sets of twos) and relying on eyelines to make it clear who is speaking to whom and TOWARDS them too, but a dinner table scene around the 1/3 mark takes full advantage of that wide open space to explore just how far of a length these characters wish to maintain between each other depending on their disrepute. It is in the moments of the stage's stops where we are most beholden to the blocking as much as Ford and Glennon's containment of that blocking in the frame.
It's also the case that Ford and Glennon have no problem applying that same visual favor to the rest of the characters as they do to Wayne, given that this is also a story about the hypocrisies and gatekeeping of society. Dallas is the most sympathetically presented character – even ahead of Ringo – as we watch her being practically chased out by a hovering cluster of old women with judging eyes. Doc Boone is given no less a framing of dignity than his sober fellows. In fact, the most evidently unfavored of the Stagecoach inhabitants is Gatewood, playing as an example of the manner in which Stagecoach has a disinterest in proper society and the way it treats its outcasts. Gatewood is ostensibly the most distinguished figure there and also the most blatantly crooked and bullying. Meanwhile, Mallory and Hatfield – being the second and third most distinguished (distantly third for the gambler) – have their moments where the film looks down on their attitudes towards Dallas and Boone but also allows nuance that lends itself to the most interesting arcs for the characters.
Within the two towns where this movie starts and ends, there is nothing but dismissal for Ringo, Dallas, and Boone and the film's shots are no less dynamic – as Ford had an eye for composition like no one else in the game – but feel less eye-catching than the actual journey that takes wide fascination with the landscape and the image of a lone coach traveling through these lands (particularly Monument Valley*, Ford's favorite location and it is so easy to see why) and the place where Ringo and Dallas can dream of a better life together beyond the border of "civilization". Particularly the moonlit night sequences where they stand with a fence between them as the celestial glow lands on them talking romantically, obvious in its symbolism but nevertheless striking. Personally, I find it fascinating that a director who takes care to establish Native Americans as a presence beyond white society is so eager to condemn white society as lacking any place for these characters that Stagecoach gives its heart to and if there is one wish I had, it was that Stagecoach extended that grace to its exclusively hostile depiction of the Apache people.
The only time this balance doesn't work out is something Stagecoach gets away with because it is also the most exciting and conventionally entertaining scene: a climactic action-packed chase from the Apache warriors packed with tracking shots of fierce stampeding and several of the most mind-blowing stunts from the legendary Yakima Canutt. I imagine only someone clinically dead could not have their heart-stopped watching Canutt climb under the coach harnesses or running with the camera across this terrain trying to dodge or even feel helpless in a late beat between Mallory and Hatfield, but maybe I'm just too taken by Ford's sense of action and adventure and character drama complimenting each other.
For Stagecoach is not Ford's best movie in my eyes, but it gives a good argument for being my favorite Ford movie and thereby one of my favorite movies of all time. It is a good amount of so many things, all of them constructed so efficiently that you can hardly notice the time passing by you or how conventional it is at the end of it all, while many of these things are communicated with the most memorable broad strokes possible on the level of imagery, performance, and storytelling that it stands as a quintessential work of Hollywood's most noteworthy year of filmmaking.
*Come to think of it: That's the one "FIRST" of Stagecoach, the First Western to use Monument Valley's iconic imagery. Look up Harry Goulding when you get a chance, as that man is responsible for the way we see the Wild West in a manner that is not appreciated enough.