For Marshall
She Wore a Yellow Ribbon – the second entry in John Ford's informal Cavalry trilogy – is not Ford's first rodeo with color filmmaking or even his first rodeo with the famous early three-strip Technicolor process. That privilege belongs to Drums Along the Mohawk ten years prior to Yellow Ribbon's 1949 release. But that movie doesn't yield nearly the amount of ambition with this development in cinema as our current subject, so we shall forgive She Wore a Yellow Ribbon for doing it first as it does it best. Because whoa nelly does it do it best, well enough to win the year's Oscar for Best Color Cinematography at the very least but that's hardly a worthy award for the sort of formidable imagery we are granted as our window to the mythic West.
One such reason is because of what it is capturing in brilliant color: John Ford's favorite shooting location Monument Valley, the very image of the West now transformed to more immediate presence and making a great leap from Fort Apache's cracked texturing of that landscape into bringing more awareness to the brush and the shadow in relation to the warm colors of that mountainous desert environment. And another is the fact that as the second film of that Cavalry trilogy, now we truly get to watch the proud bright blue and yellow of their uniforms in those lovely landscapes.
But it's not just the colors and shapes of She Wore a Yellow Ribbon but what they are representing: it perhaps moves past How Green Was My Valley as Ford's most sentimental film but if it is not as surprisingly fatalist as that movie or Yellow Ribbon's earliest predecessor Fort Apache, Ford, returning co-writer Frank Nugent, and co-writer Laurence Stallings – adapting TWO Saturday Evening Post stories by James Warner Bellah – bring an awareness of the end of things to come and the place of the cavalry and their duties in the scope of the world. Nugent and Stallings' screenplay follows the last days of Fort Starke's Captain Nathan Brittles (John Wayne), which happen to overlap with the days after Custer's defeat at Little Big Horn (making this a spiritual sequel to Fort Apache is a more direct way) and so the Cheyenne and Arapaho tribes are emboldened by their victory to combine forces against the US and move for war. Brittles' order from Major Allshard (George O'Brien) for his remaining five days is to quell the Native Americans' desire for war and in the meantime accompany Allshard's wife Abbey (Mildred Natwick) and niece Olivia (Joanne Dru) to an eastbound stagecoach.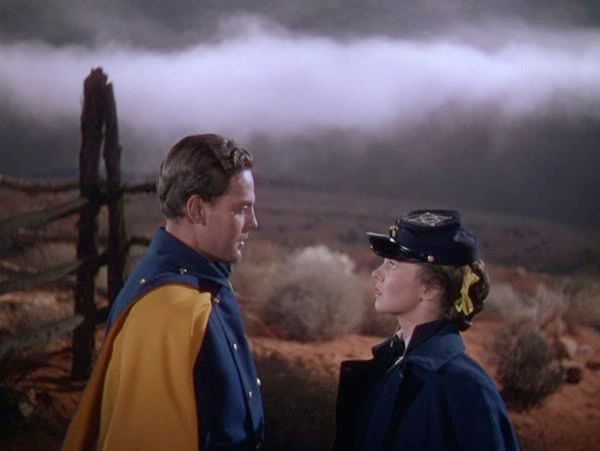 And so for most of the movie's runtime, we are instead brought to watch the Fort Starke Cavalry prepare for the journey and then just move on the road alongside them as a passenger and Ford's aim appears to be just enjoying the company and miniature dramas of each of these men, whether the rivalry for Olivia's romantic affections between 1st Lieutenant Flint Cohill (John Agar) and 2nd Lieutenant Ross Pennell (Harry Carey Jr.) or Victor McLaglen's boistourous default Irish drunkard now taking the form of 1st Sergeant Quincannon or Sergeant Tyree (Ben Johnson)'s reconnaissance mission or just Brittles dealing with the fact that he is going to have to walk away from this life very soon and his adventure is over.
Which seems as good an avenue as any to say that while Fort Apache is Wayne's best performance… Brittles is a very able to challenge to that being the case. Part of that is how well the makeup – with its lines on his face and the broad white streaks in his hair – does to transform him into an aged man (Wayne was only 41 years old at the time) and the manner in which, without particularly changing his regular performance method in a big way, Wayne is able to modulate a sense of regret and looking back that anchors this movie's fondness for the characters he finds his sense of belonging with (and I think that most of these actors had already worked with Ford amplifies that familiarity for a regular viewer of Ford's). And particularly the level of emotion he would display according to who was his screen partner crafts together the image of Brittles of a man who is a big softie but cannot stand to let anyone see it, something performed in subtle places where Wayne can fit in honest reactions to loneliness or disappointment or tenderness… all things that will turn out to be necessarily present in Brittles' character arc as his final steps towards retirement do not appear to go in the direction that he hopes. And in turn She Wore a Yellow Ribbon turns out to be an analysis of where warmth and gentleness belong in masculinity – the idea that it is ok to apologize, even in spite of the famous line "never apologize, it's a sign of weakness" and to feel for a man – something that isn't acknowledged nearly as much in this world of toxic masculinity and in which Ford was known to live by in his life despite trying very hard not to betray how easily emotional he could become.
And yet then there is all of these magnificent nature-based wideshots in all the wonder the camera was capable of providing for the painterly scenery that is the American Southwest. For even in the immortalizing of the cavalry's soul as men, it is small in the face of this magnificent untouched desert land and Ford with cinematographer Winston Hoch never run out of ways to transform these panoramas into magnificently romantic variables of light and surface, particularly in a famous central scene set in a thunderstorm where ever hue is captured with the sort of straightforward darkness that a overcast sky could blanket upon the day but allowing each crack to make the colors burst ever so aggressively each second. The awareness of how light responds to the vistas differently in color than in black and white is something Ford and Hoch were expected to get hold of if She Wore a Yellow Ribbon was going to work, but their ambition with changing the lighting of not just each sequence but within the shots themselves is extraordinary. To say nothing of the gorgeous red-mixing sunset silhouettes that come at She Wore a Yellow Ribbon's most sentimental.
Even more so in the manner that while the colors of those cavalry outfits proudly call out in the vastness, the movie visual gives the encroaching Cheyenne and Arapaho confederacy the same distinguished space within this vast framing of this land as the Cavalry… maybe a manner in which John Ford did not want to roll back on all the progress of Fort Apache interrogating the United States' history of relations with Indigenous people. I'll confess even the most progressive Western picture – which Fort Apache may very well be among – still gets a bit dubious for me on its treatment of Native Americans, but I'd forgotten how clearly Ford seems to be willing to favor and even understand the objections of the Native Americans in this picture (giving them a blunt voice in the form of Chief John Big Tree's performance as Pony-That-Walks). The major thesis of this movie is not that the Cheyenne or Arapaho are wrong (and while it is easy to make the mistake of Custer's death and defeat being something that provides foreboding in this picture, the context of Fort Apache instantly disabuses that), but that war is not something favorable for anyone. Even when Major Allshard moves for war and the early third act of She Wore a Yellow Ribbon embodies a sort of resentful regret on what could not be done and what may very well be on the horizon, Brittles is looking for a way to circumvent that by any means necessary (there is other things that Nugent & Stallings' script tries to circumvent at the last second and it leads to the ending being the single biggest mark against the movie, but it takes up so little runtime and the movie is over before I know it that the movie still remains a masterpiece in my eye).
There's a humanity throughout She Wore a Yellow Ribbon welcome to any presence within it, no matter how big or small the part (I honestly am surprised that Johnson makes the biggest impression on me as a performance outside of Wayne), and it's through there that Ford is able to fill this ostensibly simple color western with awe of the land, sobering reconsiderations, musings on how to be a man, and camaraderie with others. The movie that most betrays the soul of John Ford is a very tough bet to make (especially considering how much of his 100+ movies I haven't seen and ESPECIALLY with the knowledge that Fort Apache and The Quiet Man exist) but She Wore a Yellow Ribbon seems most characteristic of Ford as a person to give the impression of a big tough guy and still break down before the picture or grave of a loved one and try to find the words to express personal failure. And it is through that personality that She Wore a Yellow Ribbon becomes more than just one of the most gorgeous films ever made… it becomes an extremely dense character study on top of it.