KKUM (Kim Kang-min, USA/South Korea)
Of course Mickey Please was not going to be the only animator in the world who experiments with styrofoam sculpting as an animation style. And frankly Kim Kang-min makes his own mark with the form, pushing on an ambition with the spacing and scope of what he's depicting that rivals Please's Marilyn Myller. I am a bit too distant with the schema by which Kim approaches this otherwise a deeply felt personal story of maternal affection and protection, but the depiction of his mother's dreams and the primitivism imagery comes with a magical realism that compliments the style. It is quite possible that this supersedes Excuse Me Miss, Miss, Miss as the short I'm most excited to watch again whenever I can.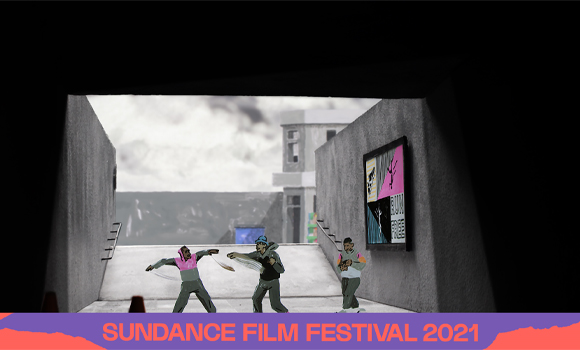 THE FIRE NEXT TIME (Renaldho Pele, UK)
Feels way too much like the sort of film that wants to say something without really having much to say, but its animation does well enough to give it a true frenzy to the way it escalates that while I found it to be a short I could not connect to… the visuals were so clearly inspired and lively that it was a lack of connection that I deeply regretted. The sort of usage of color and lines that demand you pay attention to why they're chosen.
GHOST DOGS (Joe Cappa, USA)
This was probably something that I should have expected but this program had at least three short films that I ended up watching thinking "wow, this grotesque visual style and the puerileness of it would feel right at home as an Adult Swim bumper" and here we arrive at the first of these. And to be honest, that thought was a big part of what made me fear I was going to hate Joe Cappa's short here except… at some point I ended up coming around to loving it and finding myself impressed with how steadily it was able to maintain its discomforting vibe for the entirety of its runtime. Cappa's utilisation of the humanoid dogs with horrifying sharp teeth and sickly blue skin turns out to be less indulgent than I as worried it was going to be – accompanied by a protagonist dog whose smoothness of lines and warm brown is adorable in comparison – and it turns out he's just finding out how long he can turn up the suspense before letting loose on a psychedelic climax followed by a hilarious punchline to it all that made this among the most impressive works of animation in the whole program.
MISERY LOVES COMPANY (Sasha Lee, South Korea/USA)
Very easy to like, but it didn't stick around long enough for me to love it. Still it's hard not to recommend this as comfort food for when one is feeling most melancholy, as it provides soothing visuals that still dare to transform throughout its central tune and cool colors to it all.
GNT (Sara Hirner & Rosemary Vasquez-Brown, Australia)
The second of our "Adult Swim" type of shorts and unfortunately the one that appealed the least to me, albeit I'm sure that there is exactly an audience for the sort of bodily humor that this one traffics in as well as the squashy pink-on-white visual style matching pretty well with that humor. It's impossible to pretend that it's not setting its sights on themes that have some relevance today, what with social media and open conversations about the female body, but it's just not for me and that probably indicates how out of touch I am at the ancient age of 28.
THE FOURFOLD (Alisi Telengut, Canada)
A friend of mine told me that they would have probably liked this more if there were an English-language version of Qirima Telengut's narration (mind you, they are no philistine and watch healthy amount non-English films regularly) and while I don't know that I agree, I can certainly understand how trying to keep up with Telengut's speech may get someone unable to keep up with the ever transforming abstract visuals. In any case, they marry together extremely well into a short that is one part meditation and one part environmental plea so that the elusive nature of its impressionist artwork just lingers in our head several frames later and makes us recognize how easy it is for things to change drastically.
TREPANATION (Nick Flaherty, USA)
It just does not feel finished in any visual sense and that got in my way with connecting to this short on any level. I'm certain that's a deliberate choice on Flaherty's part to give it that sort of alien nature to its opaque storytelling, but I wish I could respect it enough to meet it halfway in that manner. It reminds me way too much of Tony de Peltrie in all the wrong ways.
SOUVENIR, SOUVENIR (Bastien Dubois, France)
The script could go either way for me, as I'm sure could be expected for this subject matter. The story of people realizing how bad war crimes the French commit on us Algerians certainly brings out my inner "congratulations for catching up", but I can't hold that too hard for a story that uses that as the bedrock for a variety of animation styles clashing together in representing not only the divide between generations trying to discuss and process wartime trauma but also the slow ability for Dubois as an artist to truly recognize the seriousness of this material and grapple with his past juvenile cartoons versus the harsh textures of his later attempts to tell this story. The meta-layers are the source of this short's depth for me, providing introspection that the obtuseness of Dubois's father otherwise cannot give way to and for that I can forgive it for taking a minute to getting to conclusions that were already clear for all Algerian people if not most French people and certainly not in the 1950s-60s.
LITTLE MISS FATE (Joder von Rotz, Switzerland)
The final of the Adult Swim looking shorts and like GNT before, definitely one where the animation style just does not appeal to me. Still I imagine an earlier version of myself in high school who used to be all about this vulgarity would have been all over it and I honestly can't pretend that Joder von Rotz's attempts to gross us out with the violent and puerile distortions of its characters don't aim for an ambition that maybe I don't see as often with these types of shorts. I'll send it back in time to high school me and see how he responds.