I've made this clear enough but from where I stand 2020 was definitely an anemic movie year based on worldwide circumstances and I regret that 2021 seems to be just as poor a movie year where I haven't been able to witness a single masterpiece just yet. But it hasn't been absent of any of its great joys and certainly some movies I hope to see re-released in cinemas so I can rewatch them with a crowd of strangers on the same wavelength as I. For Barb and Star Go to Vista Del Mar, the second writing collaboration between Kristen Wiig and Annie Mumolo (following Paul Feig's Bridesmaids), is exactly that sort of movie that invites you to share its anarchic sense of humor, driven by first narrative feature director Josh Greenbaum. Which is one of several arenas in which Barb and Star differs from the more "grounded" Bridesmaids, another major arena being in how despite the go-for-broke non-stop laughs of Barb and Star, it feels pretty obvious that most of the jokes on the screen existed on the page with Greenbaum having none of Feig's bothersome habit of lingering on one ad-lib session for too long beating a dead comic horse. Which I imagine is the going to be the result when the screenwriters are also the stars of the movie and so probably thought through exactly what they wanted to say as they wanted to say it.
Mumolo and Wiig are portraying the eponymous Barb and Star respectively, of course. They're a pair of middle-aged Midwestern women with a deep friendship that saw them through their past marriages and are now facing a new crisis after losing their job and friends group in rapid succession. Star's solution to this is to follow the rejuvenated "soul douche" of their friend Mickey (Wendi McLendon-Covey) and visit the Florida town of Vista Del Mar. This decision unfortunately coincides with the murderous plot of Sharon Gordon Fisherman (also played by Wiig in what looks like an albino parody of a Cate Blanchett in Indiana Jones and the Kingdom of the Crystal Skull), sending her deeply pining henchman Edgar (Jamie Dornan) to set up a receiver for fatal mosquitos in that very same small town.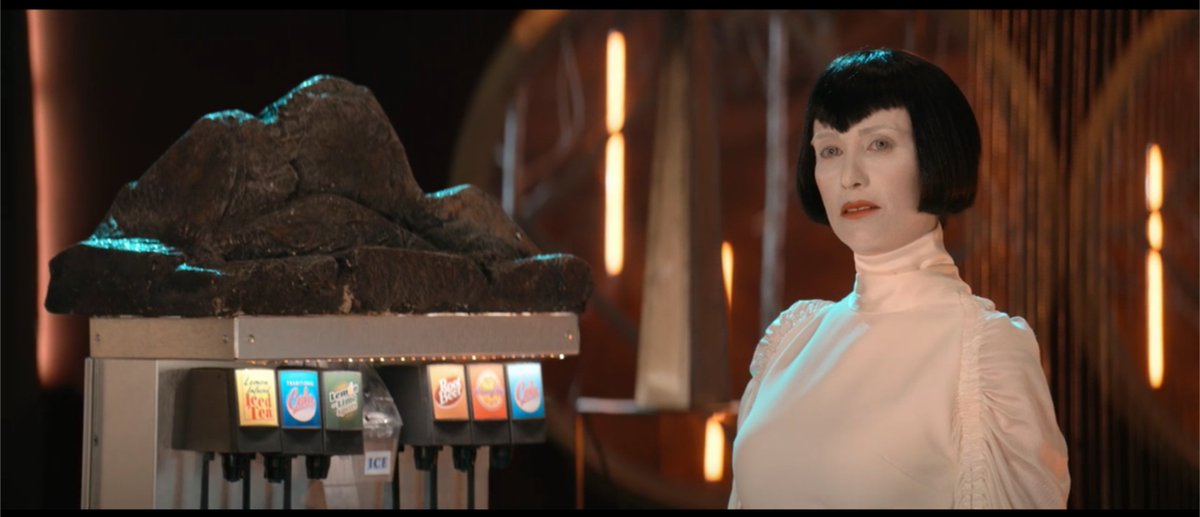 It is to the phenomenal go-for-broke credit of Barb and Star Go to Vista Del Mar that these two plots converge in a natural sense rather than interrupt each other (possibly might help that we meet Fisherman before we meet Barb and Star). Both threads are of the same manic energy exerted by Greenbaum, Wiig, Mumolo, and the rest of their collaborators on this film throughout, something that makes sense that this turns into a surprise musical at least a full act in, something that fires off non-stop jokes and an insistence on having cartoonish fun that could understandably be exhausting to a different type of viewer (especially since not every joke is a bullseye and the movie is kind of pushing its welcome at only 107 minutes). But for my type of viewer – the kind that needed a real shot to the system to stay interested in contemporary cinema – it's a breath of fresh air.
See, there's several different types of mainstream comedies that just don't get made as much these days and Barb and Star Go to Vista Del Mar embodies most of them. We've already acknowledged this as the kind of movie where the makers just opted to throw every idea to the wall and seeing what sticks, the sort of indulgent "take a studio's money and run" production that I always have room for in my life, but so rarely seems to be done with studio comedies. That is has the discipline to so with the precise focus of running through this buddy plot and maintaining a singular buoyant attitude is of the deepest credit to Greenbaum as a director as well as Wiig and Mumolo not necessitating the cast to improvise because they structured their scripted jokes with a discipline I haven't seen since Community. Everybody in the cast gives the vibe of having a tremendously fun time while playing the absurdities as straight-faced as possible (including Richard Cheese as a background pianist singing endlessly about boobs), having their cake and eating it by inviting us to be in on the joke.
The other kind of studio comedy that we just don't see these is one that cares about the actual cinematic craft of it and this is very much where Barb and Star Go to Vista Del Mar excels. Certainly it's filling in the cracks between verbal jokes with visual gags based on the cutting and distortion with varying intensities of fever dreams or warm flashbacks, but it's also just a bubbly and bright looking film as it gives us all that resort town vibes by boldly suffocating us with marine-like pinks and turquoise in the walls and costumes all around. And how could one ignore the costumes of a movie that opens with the definition of "culotte" and makes culottes and belt buckles an outright plot element. It's no less eye-catching in its vision of this beachside, seafood-obsessed tacky resort as it is gut-busting and maybe the only excuse ever to give me characters that would willingly go to Florida (I respect Barb and Star too much to let that go off-hand).
All of this comes in service of a story deeply sincere about the relationship between its two characters and their desire to feel alive in the throes of middle-age once again, feeling like something entirely driven by the relationship of Wiig and Mumolo behind their writing. Which makes it all the more enjoyable to share it with them and root for their lovable if absent-minded characters finding new joie de vivre and falling in love (it says particularly a whole lot that even in the middle of the excellent comic timing Dornan displays here, he's had a lot better chemistry with his romantic screen partner here than in the 50 Shades trilogy or Wild Mountain Thyme) and most particularly reinstating the benefit of just having friends. The direction that even the supervillain plot goes even begins to lean on this and it leads to Barb and Star as a movie really tying itself off in an organic and satisfying way.
So that's just what I needed in the early months of "The Long 2020", a breezy comedy that cares about how it's built, getting as many jokes out there, and making the viewer feel good. And it does all of these things. Imperfectly, but in a manner that we just don't see enough comedies these days try for and it deserves all that credit for. I like to dream of some time soon getting to rewatch Barb and Star with my friends in a house watch or maybe running into a midnight screening of a movie that definitely deserves the cult it is destined to build. It's a really great time, "a real tit-flapper" if you will.