I'm not certain there's a movie from the 2010s about which I have grappled so much more than Man of Steel. I've seen it about 5 times in the time since it premiered in the summer of 2013, almost all of which took place within those last two years of my time as a film school undergrad (2013-'14) for various social reasons. Which in some ways makes me grateful that I've waited so long to finally drop a review proper 'round these parts, which could have gone either way between mutedly negative or mutedly neutral throughout the years. I don't know flicked a switch in me what about the rewatch of Zack Snyder's Superman movies back in March in anticipation of HBOMax's release of the long-murmured-about Snyder Cut for 2017's Justice League, but something did the trick in this watch and I finally moved up to strong positivity.
It might have just been the retrospect of where popcorn cinema has gone in the past 5 years, particularly superhero blockbusters, being more and more muted in personality. In 2013, particularly in the wake of the ill-advised attempt at feminism that was Sucker Punch, a Zack Snyder picture was the most unappealing concept for me. A Zack Snyder Superman – especially in the wake of the massive misread of one of my favorite works of literature, comic book or otherwise, Watchmen – was especially an unappealing concept for me. And sure enough, the resultant picture is absolutely emblematic of all of Snyder's indulgences as filtered by an interest to at least capture that same grounded atmosphere of the Christopher Nolan Dark Knight trilogy, sharing the weaker link of that trilogy's writers room in David S. Goyer and Nolan, Emma Thomas, and Charles Roven in the producers' slate with Snyder's regular producing partner Deborah. Those indulgences being slow-motion, color timing to the point of draining it away, and generally a sense of sound and fury that rivals Michael Bay.
Well, frankly the last few years have made me more and more hungry for indulgent blockbusters, with that 800-lb gorilla that is Disney literally outlawing any semblance of personality in their output. And I do mean this review as a one of a trilogy of documents of my "come to Jesus" moment with Snyder's Superman trilogy so in spite of all the mean things I just said above and certainly the grievances I do still have with Man of Steel as a picture, I come to praise the film and not bury it.
Starting with its best foot forward: the origin story of Superman begins literally with his birth on Krypton, portrayed as a pulp science fiction planet with flying Avatar dragons and floating Meteora-esque mountains above the clouds bronzed-up just well enough to feel like it comes from the mind of the director of 300 (thought thankfully cinematographer Amir Mokri doesn't embalm the soaring visuals with that heavy color, especially in a very marine-color sequence during this prologue). Sober scientist Jor-El (Russell Crowe) is explaining to the High Council the environmental doom that Krypton is headed for, except that happens to conflict with the coup that militant General Zod (Michael Shannon) had scheduled on that same day, barging in to kill every council member in the room and insisting on Jor-El's allegiance. Instead, Jor-El retrieve the genetic codex by which Kryptonian children are bred and hides it within the same escape pod through which he ejects his naturally birthed son, Kal-El, prior to Zod's imprisonment after the coup has failed and Krypton's inevitable destruction.
From here, we watch through impressively fractured chronology largely driven by the investigation of Lois Lane (Amy Adams) trying to find out who this mysterious man (Henry Cavill) who constantly shows up to perform feats of bravery and mercy all 'round North America through physical marvels like holding a collapsing oil tanker in hellish heat long enough for the workers to escape. We learn expectedly that this is the same Kal-El, found in the pod by farmers Jonathan (Kevin Costner) and Martha Kent (Diane Lane) in Smallville, Kansas and raised as Clark Kent. And I think it's particularly in this Rockwellian vision of Midwest Americana that Snyder and Goyer particularly excel. As Clark (who is portrayed as a child by Cooper Timberline and a teenager by Dylan Sprayberry) comes to learn the hard way that he's not like other kids and his superhuman abilities like x-ray vision and incredible strength and speed, director and writer go all the way in on communicating just how depressed and alone this kid may be while his parents do what they can to ground him back to these earthy roots.
'Round the time of Man of Steel's initial release, a lot of the criticism was to the treatment of Superman as something to be wary of, distanced in his godhood rather a point to aspire to like he is at his most beloved Golden and Silver Age comic book incarnations (there is another major criticism that we will discuss later on). And while I get the criticism, I've always found it a bit too closed-off towards a new approach to the character. We have the bright and optimistic Superman of the comics in Richard Donner's 1987 Superman, which lest we forget is both one of my favorite comic book performances and my absolute favorite live-action comic book movie. If you need THAT Superman, it's available. Even when I was not a fan of Man of Steel, I certainly found its decision to wonder "how would it feel to discover you are not of this world?" and to engage it in sincere melancholy to be genuinely interesting, even if Mokri and Snyder go a bit overboard on the color correction. Despite that color timing, they constantly find ways to frame Timberline, Sprayberry, and Cavill in emptiness so that the shots can do double duty in making him larger-than-life but also profoundly isolated, amplifying that emotional uncertainty and discomfort that one could argue Cavill's lack of footing as the titular man of steel actually feels more appropriate to the journey Snyder and Goyer set out for him.
Just as appealing to me is the way that Snyder and Mokri openly ape Terrence Malick just as much as Nolan in their loving shots of wheat fields within that Kent farm that Clark would call his home and with such warm visuals, we understand how that'd be the case too. Malick-inspired movies are about a dime a dozen these days and I'm normally not fond of them (heck, we literally awarded Best Picture and Director Oscars to a Malick rip-off last month), but somehow Snyder's diving into such a mode with full-on worship that bows its head towards nature similarly to Days of Heaven is very much impressive. Meanwhile, the Kent parents providing Clark with a bit more conflicted and morally dubious suggestions on what would make their son safe rather than fulfill his destiny as a protector of humanity which Costner and Lane successfully deliver as "parents trying their best to help and failing" rather than "adults who would rather see kids die in a bus crash". Crowe, for his part, shapes this further by playing Superman's birth father as clearly someone proud and invested in his child's future but approaches it with chilly scientific interest in stone-faced delivery, like a more matter-of-factly Atticus Finch, and it pushes us to prefer the Kents as figures without disliking Jor-El.
I have made it about 1100 words in spending most of my time on the arguably the first third of the movie, largely because in my eyes… the first third of the movie is perfect. It sets up that grandiosity, that vulnerability, that humanity that makes Man of Steel feel so much more personal and engaged as a story of one guy realizing exactly what he has to be marvelously. But I have no illusions about Man of Steel being perfect and there did come a point in my rewatch where I had to acknowledge "OK, yes, this is why I wasn't a big fan at first". It creeps in slowly as the primary external conflict – General Zod's arrival to Earth seeking conquest, which to Goyer's credit, ties in well to Clark's journey to Superman – interrupts Superman's internal conflict with menace and the threat of 2010s popcorn cinema's biggest bane, CGI explosion extravaganzas that have not an ounce of the quiet intensity that the Smallville sequences had.
And of course, those sequences pop their ugly head in and take up more space until the climax of Man of Steel turns out to be a colorless gray battle in the ruins of a city that brought up that second famous criticism of the movie, its ostensible lack of concern for collateral damage and the well-being of others (which we will indulge Snyder's infamous response to on my next review). It not only deals with effects work that hasn't aged nearly as well as we hoped (though certainly a good amount still survives), but it demolishes the structure of the movie as somehow Goyer determined that Superman vs. Zod was a second feature's worth of material and added unnecessary further acts and it becomes the obvious point where Warner Bros. as a studio truly mandated Man of Steel resemble as much as any other loud and addle-brained summer blockbuster, especially that there Avengers movie except make it the dark version.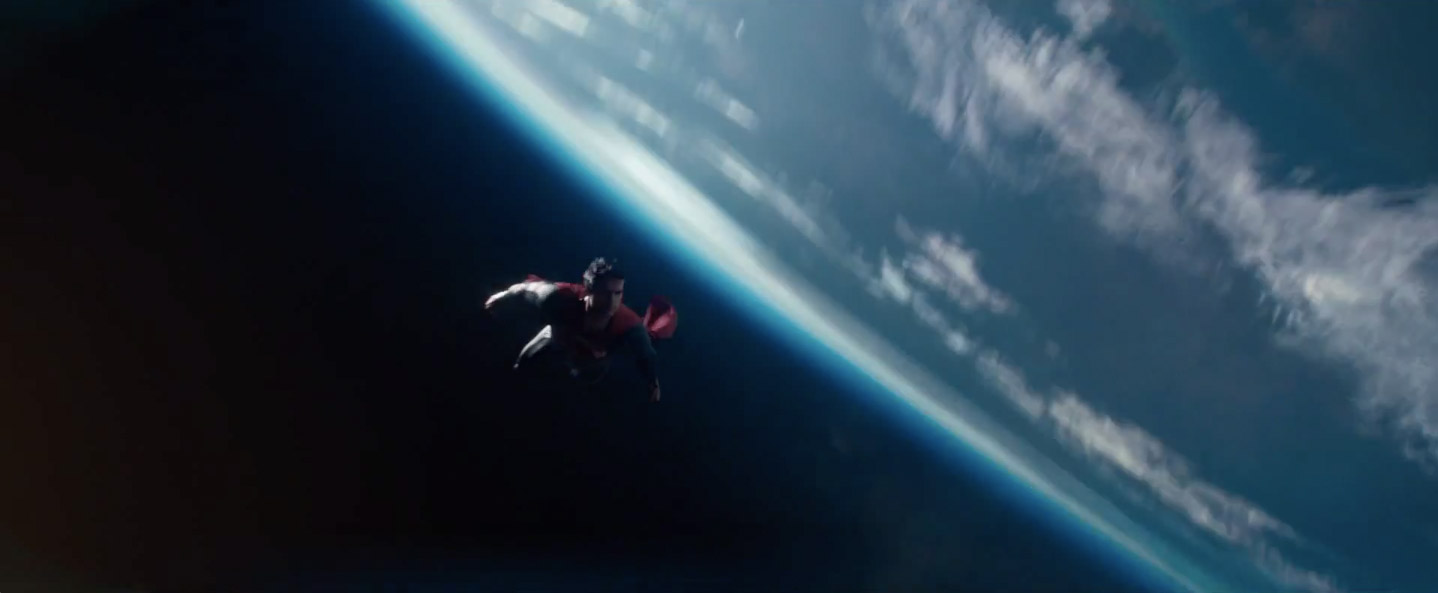 But it is not all bad: we get to witness a morbid vision of Earth as preferred by Zod, ostensibly action movie moments like Lois and Superman escaping Zod's ship or Superman engaging the World Engine that actually lend themselves to further play with the classic Superman imagery (even if it is still annoying that Zack Snyder had conflated it with Jesus Christ imagery), and the most controversial moment of Snyder's Superman ever really is one that I think plays extremely well in this character arc.
Most of all, I've saved the best element for last and it's really telling that the weaker the movie gets, the more bravura it is to carry Man of Steel to the finish line. I am speaking of course of Hans Zimmer's score for the film, which had already done brilliant work in the first few acts subtly seeding itself within the comforts of Clark's upbringing but once we see him in the red and blue suit for the very first time… Zimmer's compositions function as practically an ignition to the movie's best sequence and the climax to all that wonderful character work it was doing trying to get Superman to become THE Superman, his first flight across the globe at high-speeds where Zimmer's strings and horns soar along with him and feel so eager and elevating in their stirring bombast that we are right there with Cavill, rising in the skies and excited by our potentials. I wouldn't dare call it superior to John Williams' iconic march but it is a lot closer of a race than it has any right to be, possibly Zimmer's career-best work (barring The Thin Red Line) and certainly a miracle of making us believe a man can fly just as the 1987 picture did.
As far as Zimmer carries Man of Steel, it turns out it doesn't need to carry the movie all the way to the finish line. The final beats of the movie collect itself from all the brainless colorless anti-spectacle quickly enough to tie off the places Snyder, Goyer, and company all brought their new vision of Superman to and earn a sense of optimism to its final dialogue exchange that feel consistent with what we have seen (in fact, that same dialogue exchange makes me grin like a lunatic every time in its obviousness). Which just goes to remind us of where Snyder's Superman comes from: it's no less a figure of hope than Christopher Reeve's beloved Boy Scout, just one that finds itself working harder to get there. Sure, this is a sad Superman, a depressed Superman even, but he is not a miserable Superman as all the biggest critics of the movie seem to claim and it took me a long minute to recognize that while it is cautious about a man of tomorrow standing among the people of Earth with a sense of apprehension and disbelief and distrust about the character's presence, it is still no less awestruck at the miracle of him and gives exactly the sort of grand scope that such a character demands, just from a different perspective than we expected. A perspective that felt like the first step in Snyder becoming a lot more agreeable as a storyteller.