Probably my biggest regret of this past Sundance 2021 was not finding the time or ability to review even a single one of the multiple features I saw during that single week (though I am glad I was able to cover the short films selections), until far enough since the end of the festival that there was no relevance or point anymore. Maybe I can turn that around as they are wide released stateside, especially as it would give me a chance to refresh movies that were already fading by the time I could sit down and write again.
But one movie didn't fade all that much. One movie, above all others, stayed embedded in my mind as I kept turning around it over and over until it finally got its expected release here (one of the movies that already had a distributor before it arrived to Sundance). And that was Ben Wheatley's In the Earth, which heralded a return to form for Wheatley that rivals his early greatness (barring Happy New Year, Colin Burstead, which is my only gap among his features as it's not yet released in the US).
In fact, it's a movie that most feels in line with A Field in England, his 2013 rural period-based psychological hallucination that I frankly was not as impressed on first viewing with, but I do feel like I'd revisit with newfound appreciation in its untethered atmospheric madness. That movie begins with a sense of distance brought by its time setting and dreamy black-and-white and minimalist production design, In the Earth starts way differently. Its starting point is in fact extremely relatable to a viewer in early 2021, set in the middle of what is not identified as the COVID-19 pandemic but sounds eerily similar from how it's discussed in dialogue (as one of several movies developed and produced during it) as scientist Martin Lowery (Joel Fry) prepares to move further beyond a unnamed government outpost into its neighboring forest with a local park guide Alma (Ellora Torchia). And if I'm being honest, that "a virus is happening" starting point may pull the viewer into the world but it's also not particularly a committed element and the more In the Earth follows Martin and Alma through the woods… the less we have that virus as an urgent element. There's more pressing matters to worry about.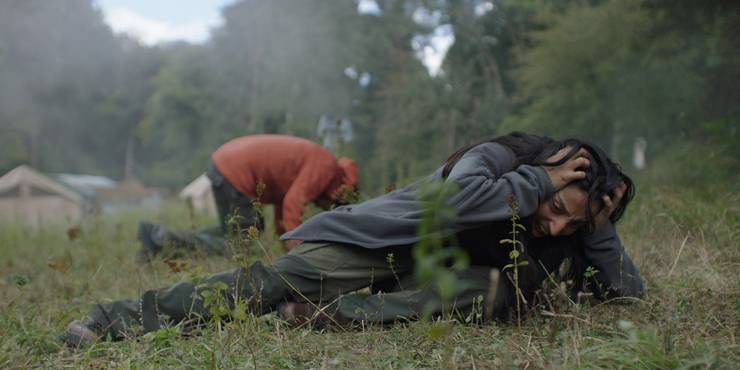 The central matter is something I wouldn't want to spoil, for a lot of In the Earth is trying to get us lulled into the rhythm of a quiet isolated trek through the woods – perfect for a film production made at a time where few people should be in close proximity to each other – and then have that violently swerved into something we couldn't imagine. And Nick Gillespie's soft photography of the oppressive greenery and shade does phenomenal work laying a tired shadow to Martin and Alma's hike, seeking out Martin's former colleague Dr. Olivia Wendle (Hayley Squires) and getting more and more nervous as they run into abandoned tents and a random habitant of the forest Zach (Reece Shearsmith) who gives off a plenty irregular enough vibe to make us prepped for something bad to happen.
Well, this IS a horror movie so something bad happens. And Wheatley's work as his own editor does so much to make the bad things interrupting the slow-running expedition truly feel discombobulated by the later shifts it takes, inviting us to expect some contagion-set Blair Witch material what with Alma's explanation of an folklore by the name of Parnag Fegg and campfire lit sequences taking up the first third. But In the Earth is headed towards something more eagerly aggressive in its aesthetic that Gillespie (who at one point of heightened disorientation and terror utilizes diagetic bright strobe lighting that makes this impossible to tough for the photosensitive but for myself I found absolutely thrilling), Wheatley, and the soundtrack (eager to bring us aware of how impossible it is to truly have quiet in the woods, your isolation surrounded by rustling and chirps) all crank up with enough measurement to give the kaleidoscopic indulgences a true sense of climax by the final moments.
Arguably the only constant to In the Earth's shifts is Clint Mansell's droning score which fits smoothly into the preceding worshipful nature footage and slides into the abstract madness that lives deeper and deeper in the runtime. The closest I'm willing to provide as a plot spoiler (and frankly something easy to predict with that plot summary) is how Squires and Shearsmith's arrival on screen truly marks the moment things change gears. The two actors together are contradictory guides to the narrative context of what weirdness Wheatley and his crew throw at our face, both grounded in their own awe of the invisible cosmic horror atmosphere. Shearsmith, absolutely unrecognizable to me from the few previous works I've seen him in (his prior collaborations with Wheatley, Doctor Who), resembles what I'd expect a dark version of a Taika Waititi performance while Squires carries the concept of hard science-fiction and procedural to the uncertain tension surrounding them.
So basically Alma begins as our guide into the woods, but really this movie slips away from her control and ours. It belongs to Ben Wheatley finally finding himself back in the zone of surprise horror scenarios that he always did best flexing between Kill List, Sightseers, and A Field in England. I'm sure the past few years of him getting more of a budget to play with have been satisfying to get out of his system, but they didn't result in very interesting or good movies. Sometimes all a person needs is a few humans, a vast space, and a limitless collection of sounds and filters to truly show us something terrifying. Looks like Wheatley and his crew made the most out of little.