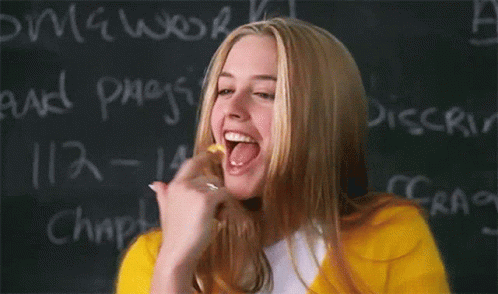 I would not make assumptions on the experiences of others based on my own experience, but this last rewatch of Amy Heckerling's 1995 high school comedy Clueless had me realizing I fell into a trap of misremembering this movie just how scathing and antagonistic it is towards its characters and their lives. And in order to defend myself – as this was my third viewing of the movie – I suggest that this was a fairly easy trap to fall under. For just as much as it is a biting satire with deeper cuts to land than one would expect on first look, Clueless is also a really breezy and easygoing comedy with cinematographer Bill Pope supplying glossy visuals towards the home life and mall life of it bubbly Cher Horowitz (Alicia Silverstone) while making sure to flatten any incident outside of there and an arc that does suggest an earnest core behind its superficial characters and the fact that any movie around the runtime of 90 minutes (Clueless being only 7 minutes over) is obviously the work of very nice people who only want what's good for you.
But about 10 minutes into that runtime, Cher opens her mouth to give an argument about the Haitian refugee crisis and it is in there that Heckerling's script begins to show its hand a bit as she goes to compare the struggles of these desperate refugees to her venal lawyer dad (played by an expectedly intimidating Dan Hedaya)'s 50th birthday dinner in Marie Antoinette-like fashion. The large amount of differences between a life-or-death situation for displaced people and a situation for her where the crisis is just that she had to accommodate wealthy guests who just did not RSVP in advance is not something stressed on by either Heckerling (who backdrops Cher's speech with a patriotic musical score and punctuates it with the applause of her peers in the class, though the bemusement of her debate teacher) or by Silverstone's comfortable performance in a Valley Girl skin with enough self-awareness to play further into the blindspots of Cher's position rather than cover them, but Clueless trusts that such a reductive approach to the situation should be recognizable for any given viewer.
And as Clueless continues on to depict the "way normal life of a teenage girl" of Cher's stature, we learn just how much of it is talking her way out of consequences, imposing on the lives of others, and quiet snobbery and ignorance, all of which portrayed with the same bright view of things as Cher's internal monologue delivers her short-sighted but energetic observations with. None of Heckerling's writing for Cher is malicious and there is often the implication that Cher wants to do the right thing, but the undertones of her motivations or methods are dark enough to have that bite towards a character we are still ostensibly meant to find pleasant if mockable company.
Which is just as appropriate given that Clueless is famously an adaptation of Jane Austen's 1815 novel Emma, sticking to the events of the book extremely accurately. It remains fairly to the spirit of Austen's judgmental look towards the higher-classed people for Heckerling to have this wry attitude towards the contemporary teen culture in which her script and direction transposes the material, which also triangulates Clueless into being a part of several different trends in popular culture: it started the trope of directly adapting (as opposed to be inspired by) contemporary works of literature to modern day settings. It particularly came at the exact peak of the Jane Austen adaptation craze that the BBC ignited in the early 1990s (in fact, a year later Emma would receive a straightforward adaptation this time written and directed by Douglas McGrath). And for my money, I think it's one of the few Austen adaptations that gets the scoffing nature of Austen as a storyteller rather than the lavish costume dramas that look at the lives of their characters rosily because "old means prestige". Perhaps that's a perspective Heckerling was afforded from her choice of time and place to set Clueless.
But probably the most material of these trends since it's the one Heckerling and company are dissecting and ridiculing is how Clueless arrived right at the beginning of the end for the Beverly Hills valley youth subculture's place at the center of America's attention (if you are like me and define the beginning of the end as "when Luke Perry left Beverly Hills 90210). A social trend based in the glorification of the status you were born into and the apparent merit of separating yourself from the have-nots, which is obviously just the perfect state of mind to apply to high school life (and costume designer Mona May particularly has a good time applying gaudy and loud outfits to Cher, Stacey Dash's character Dionne, Brittany Murphy's character Tai, and Elisa Donovan's character Amber while dulling out the colors and stressing the ill-fitting nature of the outfits for guys like Breckin Meyer's stoner skater dude). And perhaps less obvious but something that couldn't help sinking into my mind during this rewatch, but Clueless also came fairly early into the time where Generation X and the youth of America was hooked and appealed into political involvement with things like Bill Clinton appearing on MTV, something I can't help feeling Heckerling has a bit of pessimism about. Certainly Clueless is not a political movie by any measure, but Cher as a character talks about current events like refugees in such a frivolous or simply asks for a charitable cause to be involved in for appearances has quite a bit of connotation coming from the mid-1990s.
So what to do with this central character who is vapid as hell regarding the and the environment around her that facilitates the way in which she takes everything for granted and assumes that she knows best (after all, there is even a moment where Cher's father praises her for manipulating her teachers into fixing her grades rather than earning them)? How does a movie knowingly give us these characters and still get away with a reputation for being fun and enjoyable?
Well, to start with, Silverstone and the rest of the cast are really amiable company (especially Murphy, who is nonstop adorable even in the brief moment where she gets to act as a heel). Silverstone has a deft handle of Cher's slang and takes care to modulate the amount of ignorant bliss Cher has to still let it wallop when she has a sober epiphany about the guy she had a crush on being gay or realizing she can't talk her way into passing her driving test (the reckless driving being one of the more direct areas where Heckerling suggests danger to these kids' airheadedness while still allowing it to have the sort of wacky tone as any other comedy). The characters themselves treat their interpersonal conflicts as small things that come and go, such as the invisible nature with which Amber will be a source of disdain for Cher or Tai and then turn around and still hang out with them at the Galleria. Outside of Jeremy Sisto's Elton, the only source of downer energy is from the snarky presence of Paul Rudd's Josh and that's the same character who evidently has most of his head on his shoulders with his engaged college life and his confident sense of direction. And he still gets to be effortlessly likable on the basis of being baby Paul Rudd.
But what's most impressive about Clueless trying to have its cake and eat it too is that because Cher's harmful influence towards is nowhere near the magnitude of, say, a Ferris Bueller, we do cheer for her to find love and have her friendship with Tai and to get things… kind of figured out without actually really changing as a person. And the manner in which she accomplishes these things gets to keep dark undertones – like the pseudo-incestuous nature of the final pairings or the conversion of an innocent personality unbeknownst them – that can linger in our heads while the movie cheerfully grins and insists that this is a happy ending. Clueless is the type of movie that is having a good time and if you go "wait, what a minute?", you're telling it anything it doesn't know but it asks that you play along and get with the vibe. And by golly, it works.